Seatrium's net order book worth over $20 billion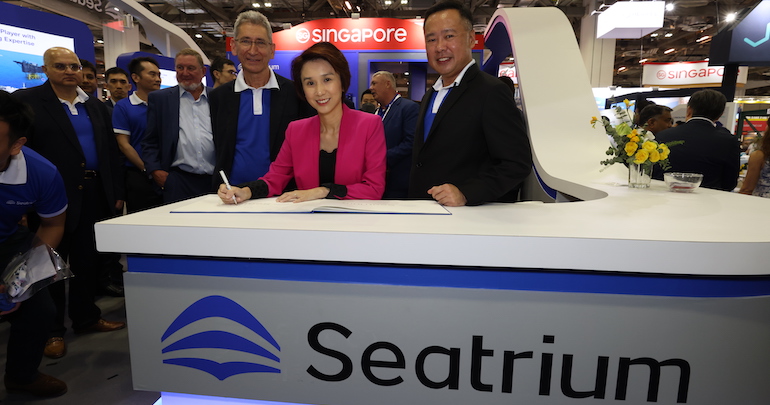 Singapore-based Seatrium Limited on Friday disclosed that its net order book stood at over $20 billion for the year-to-date following multiple project wins in its first quarter of 2023.
Brands and Business Magazine
Seatrium provides innovative engineering solutions to the global offshore, marine and energy industries. The group has 60 years of track record in the design and construction of rigs, floaters, offshore platforms, and specialised vessels, as well as in the repair, upgrading and conversion of different ship types.
In its business update for Q1-2023, the company said that the projects include an offshore renewable project, which entails supplying high voltage direct current electrical transmission systems for three offshore wind farm projects – each valued at about $2.9 billion from TenneT TSO. Renewables and cleaner/green solutions comprise approximately 39 per cent of the Group's net order book.
The company added that it has also secured a contract worth more than $500 million for two offshore wind farm substations from Empire Wind, a joint venture between Equinor and BP.
Further, it has entered into an agreement with Chevron Shipping Company to provide the latter with engineering, procurement, installation, and commissioning services for its LNG (liquefied natural gas) fleet modification and upgrade project to support its energy transition goals.
Projects under execution make up about $19.9 billion of its net order book, while ongoing repairs and upgrades projects contribute to the remaining, said Seatrium.
The group also recorded higher overall cash balance, following the completion of the combination with Keppel Offshore & Marine, as well as improvement in operating cash flows from the completion and delivery of key projects.
Key Projects
Key projects under execution with delivery scheduled from 2023 to 2030 include RWE Renewables' Sofia Offshore Wind Farm, new-build Wind Turbine Installation Vessels (WTIV) Charybdis for Dominion Energy and Sturgeon for Maersk Supply Service (Maersk).
The Group also has multiple EPC (Engineering, Procurement and Construction) contracts from Brazilian state-owned oil and gas producer, Petroleo Brasileiro S.A. (Petrobras), for new-build FPSOs, P-78, P-80, P82 and P-83, for deployment in the Buzios field, in the pre-salt Santos Basin, off the coast of Rio de Janeiro, Brazil.
Underpinned by increasing preference for natural gas as the maritime industry strives for a greener future, the Group secured multiple LNG carrier repair and refit projects and currently has 20 LNGCs across its yards undergoing retrofitting programmes. Other key repair and upgrade projects include conversion works on three units of FPSO, the Tortue, Ngujima-Yin and Armada Claire.
Project Deliveries
The company had witnessed successive project deliveries including the third and final Ropax unit built for Norled and the Prosperity FPSO for SBM Offshore. The company also serviced a total of 91 vessels/offshore structures including naval vessels, cruise liners, LNG carriers, FSU/FSRU/FSO/FPSO units and jack-ups across the Group's yards.